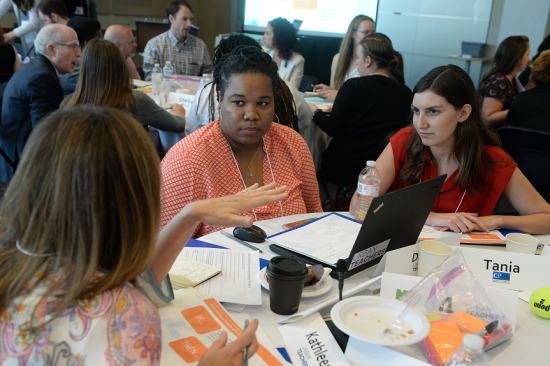 About the Evolutionary Learning Institute
Each year, CPRL conducts Evolutionary Learning Institutes to equip individuals and teams from state education departments, intermediary organizations, school districts, charter management organizations, philanthropies, and other education nonprofits seeking transformative change in K-12 education with the learning frameworks and tools they need to succeed.
Participants, in teams of 3-6 people, are exposed to rapid and constant institutional improvement strategies through two in-person day-long workshops. The Institute will guide participants through the process of devising and fully articulating a strategy, securing buy-in for this strategy, and measuring the implementation of the strategy, all of which will equip teams with the tools needed to continuously improve.
The 2019 Institute will take place over the course of two days: April 5th and May 13th.
On the first day (April 5), the Institute will prepare organizations and teams to:
Articulate a strategy and goals for a critical initiative
Flesh out a plan for enacting that strategy
Explore new ways of engaging stakeholders in the strategic planning and execution process
On the second day (May 13), the Institute will prepare organizations and teams to:
Understand the fundamentals of measurement for improvement
Identify progress and outcome measures for their strategic initiative
Develop problem-solving practices for overcoming challenges that arise during implementation
Organizations can participate in one or both Institute sessions, depending on their interest and organizational needs. In preparation for the Institute, CPRL will conduct an introductory call with each participating organization or team. At the Institute, CPRL will deliver its model through large and small group facilitation and individualized coaching.
Application Process
If you are interested in attending the 2019 Evolutionary Learning Institute this April 5thand/or May 13th, please apply here. Applications will be reviewed on a rolling basis and participation is limited. Email CPRL at cprl@law.columbia.edu if you have any questions.
About the Center for Public Research & Leadership
The Institute's curriculum has been honed over the past nine years by the Center for Public Research and Leadership (CPRL), a partnership of top university-based professional schools that brings together talented graduate students in business, education, law and policy to study and engage in consulting projects serving public- and social-sector K-12 organizations.