Building a Network to Improve School Experiences for Newcomers
By Jill Grossman
As a high school math teacher in Miami-Dade public schools, Alejandra Vázquez Baur was frequently pulled out of class by the principal to translate for families trying to enroll their children at school or get support. She was one of few Spanish speaking teachers in a school with no other translation services and a growing community from Latin America. Every year, the school would place newcomer students in her math class not because she was teaching at the math level that was appropriate for them, but because she could speak to them in Spanish. She saw students told not to show up on standardized testing days so they wouldn't bring down the school's test average, and students who were punished for missing school to attend an immigration hearing with their family. 
"I would say to the principal, 'We are doing something wrong, can we do more?'" she said. "But it was not just my principal. There was pressure from the district, it was about lack of resources and competing priorities." 
She attended school board meetings with her students to request more mental health resources and translation and interpretation for students and families, but change was not happening. The challenges she saw were reminiscent of those her family faced as migrants from Mexico several years earlier. 
"I became very aware that this was more than a Miami-Dade problem," she said.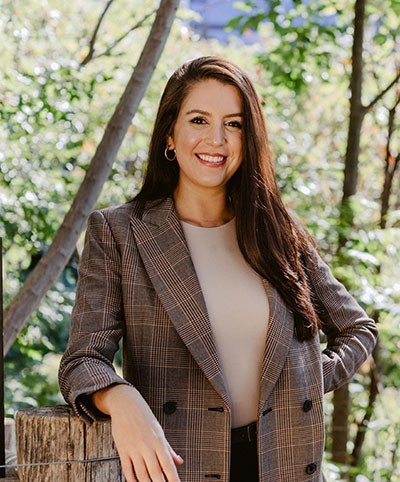 As immigration to the U.S. has grown more in the last year than in recent history, and with sights set on the 2024 elections, Alejandra is leading an effort to ensure migrant children receive the education they need to succeed. Her focus: making systems change by pulling from her family's experiences and her learnings as a teacher, an advocate, and at the Center for Public Research and Leadership. 
As co-founder of the National Newcomer Network, a coalition of state education leaders, educators, community organizations, researchers, advocates, and policymakers, she and the Network members are laser focused on improving public school experiences for school-aged immigrant newcomers, a community they define as culturally and linguistically diverse and encompassing youth immigrants, asylees, refugees, unaccompanied minors, migratory children, and students with limited or interrupted formal education. 
The effort started in summer of 2022 when, as a Next100 fellow at the Century Foundation after completing CPRL and a graduate degree in Latin American and Caribbean studies at Columbia University, Alejandra dove into a career in national immigrant education policy. 
She and co-founder Xilonin Cruz-Gonzalez, deputy director of Californians Together, started with a small list of community advocates, state education leaders, and educators whom they knew were committed to equity for newcomer youth in schools. After the first few meetings, excited coalition members began to connect Alejandra and Xilonin to organizations and advocates in their own networks across the country, and the membership has grown to more than 100 members in one year.
They kicked off their early meetings by asking, "What are the biggest issues facing newcomers in your community?" 
"We started to get things like, 'School enrollment procedures are inadequate,' and 'We don't have teachers who know how to work with immigrant kids, to put them in courses that take into account the skills they bring with them and what they do and do not know,'" she said. Coalition members noted the lack of adequate data on the number and needs of newcomers, and insufficient dedicated funding for schools to support newcomers beyond educator training and academic and language support. 
"We asked, 'What are the biggest issues facing newcomers in your community?' This will be the first time a policy platform focused on newcomers has been put out." -- Alejandra Vázquez Bauer
While at CPRL, Alejandra learned through her project for the Military Child Education Coalition about the systems of support available through their schools to help military families adapt to their new settings as a result of frequent mobility. "Immigrant children and families need the same thing," she said. 
The insights shared by the coalition members over several meetings helped the group develop a theory of action and a mission and vision for the Network. Alejandra says this process of engaging diverse stakeholder groups to share their knowledge, make decisions and design strategies and solutions – a core tenet of CPRL's leadership approach – has been critical to the Network's ability to shape their policy agenda, grow their membership, and attract the attention of policy and decision makers.
With a coalition that is now 100 members strong and growing, Alejandra finds she is pulling from a range of tools she sharpened while at CPRL – facilitating productive discussion among large and diverse groups, managing projects, conducting research, and a strategy that has been critical as the Network prepares to release its first national policy platform: power mapping. She also continues to build her leadership skills and create new networking opportunities as one of the inaugural members of the Obama Foundation Leaders USA program. 
"We've been doing a lot of thinking about who has impact, who has power and sway over the pots of money earmarked for immigrant youth," she said. Her map includes leaders at federal education offices that oversee programs for elementary and secondary schools, language acquisition, and civil rights; and House and Senate members, state legislators, and grassroots groups from districts experiencing an influx of immigrant families. That map is guiding her relationship building – an assistant director from the U.S. Department of Education recently presented on their work with multilingual learners at a Network meeting – and is helping open doors to new connections. 
With the 2024 elections on the horizon, the Network is now finalizing its policy platform, which grew out of months of stakeholder conversations: educator preparation and training; civil rights; federal, state, and local funding; and data collection. They plan to publish the platform this winter. 
Hopeful that her team's efforts to carefully cultivate relationships and engage diverse groups of stakeholders will pay off, Alejandra said proudly, "This will be the first time a policy platform focused on newcomers has been put out."